The objective of this qualification is to provide informed and prepared potential recruits to the uniformed services. It will enable learners to prepare to make a recruitment application or provide a basis for further study and progression towards the entry qualification of a specific service.
Qualification: NCFE Level 1 Diploma for Entry to the Uniformed Services
Entry requirements: Aged 16-18, or up to 24 with an EHC plan
Course delivery: Full-time
Course content:
Investigate employment opportunities
Well-being and physical fitness
Team working skills
Developing self-discipline
Health and safety
Participate in an adventurous activity
Explore volunteering
This course is available at the Osmaston Road Campus.
Please email training@ymcaderbyshire.org.uk, telephone 01332 854646, or click the button below to message us.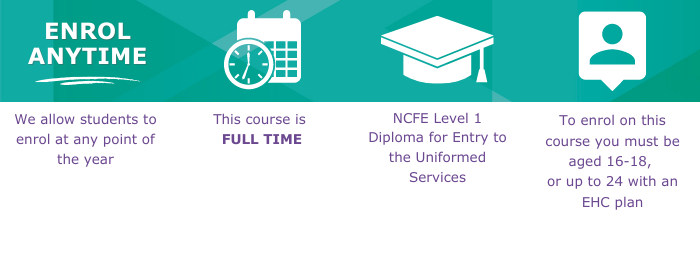 What do our students say?
Take a look at some of the comments from our past and present students. You can read more about our students success stories here.
What is it like to study with YMCA Key College?
Tailored learning
Achievement ceremonies
Relaxing break-out rooms
Calm and friendly atmosphere
Free meals such as breakfast and lunch *
Bursaries *
Resources provided, including uniforms where appropriate such as "chef whites"
Help with travel costs to and from our campuses (e.g. bus/train fares)
Help with job searches, applications, CVs and preparing for interviews
Access to various work experience and volunteer opportunities
Roll-on, roll-off courses which means you can be start at any point throughout the year
Through an individualised timetable
Through studying for qualifications in a range of subjects for the workplace, all of which include employability, personal development, Maths and English
Through a work experience placement where possible/relevant
Unlock your Future – Study with YMCA Key College
Fill out the form below to find out more about this course. You can download the YMCA Key College Prospectus here.